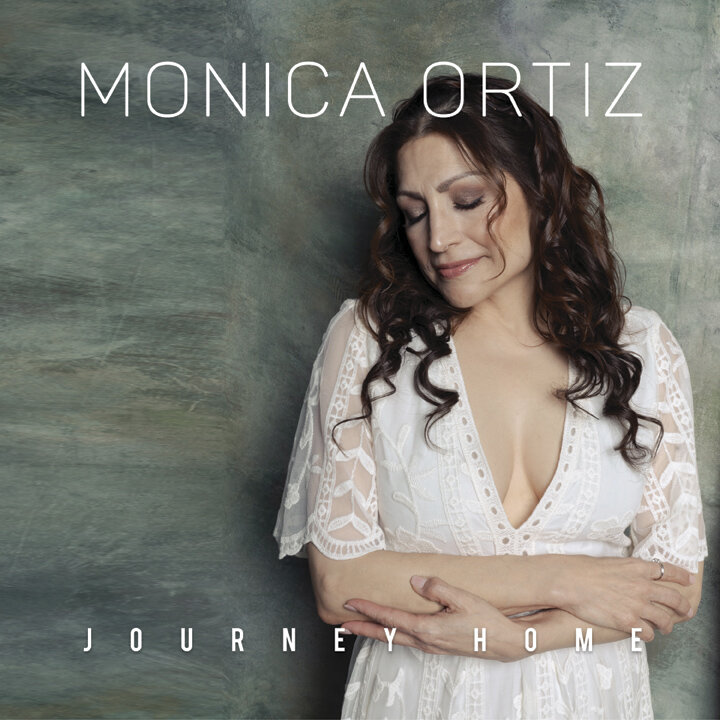 ALBUM REVIEW: Journey Home by Monica Ortiz
Monica Ortiz is a country/pop/adult contemporary singer and songwriter. Ever since she was a child she's had a very strong relationship with music and felt the desire to express herself creatively from an early age. This debut album Journey Home, which consists of nine songs, is the end result of her musical journey so far and features a number of collaborators and guest performances. She has co-written several songs with Charlie Lowell from Jars of Clay and there's vocal contributions from Matthew Koziol and the McCrary sisters.
The Woman I Became
The album starts with the poignant piano ballad The Woman I Became. It acts as a fine showcase for Monica's crystalline vocals and emotive, inspiring songwriting approach. It's a style that was known in the 1970's as "confessional", where full and open expression of feelings was paramount. The opening lines paint a touching picture of parental love: "When I was little you said it would be hard, you sat me down and warned me of future scars….".
Monica's delicate and sensitive vocal performance in a high register perfectly expresses the lyrics that depict the difficult process of growing up, of a girl growing into a woman and standing on her own two feet. Aside from a fine piano arrangement, the song features strings which add to the emotional effect, especially on the moving and memorable chorus. A very strong opening song and one co-written with Charlie Lowell.
Burn Out
The second track Burn Out is a mid-paced country-tinged pop song written by Matt Odmark from Jars of Clay and Heather Bond. Monica very much makes it her own, delivering another fine performance that brought to mind Shania Twain's country ballads. The musicianship and production is absolutely flawless with slick backing harmonies augmenting Monica's lead vocal.
Pigtails
The following Pigtails, which is similar style musically and lyrically, is a plea to a partner to allow her to fully be herself and not try to control her, ("Just let me dance to my music, let me drum to my song") a subject that many will be able to relate to. It features some lovely instrumental touches from the strummed acoustic guitar to some tasteful, creamy sounding slide guitar interspersed throughout. Once again, the backing harmonies enrich the vocals at various points to great effect.
On My Side
On My Side is altogether different, an upbeat pop track with a reggae-tinged rhythm and a vocal from Monica in the highest part of her considerable range, bringing to mind Cyndi Lauper or Kate Bush circa Wuthering Heights. The melody is instantly infectious with the funky guitar adding to the catchiness. The beat is mostly in half time but cleverly switches to straight 4/4 and the whole arrangement is full of rhythmic invention. That's something the discerning listener will enjoy, but this song's huge commercial appeal is in its addictive lead melody. A definite contender as a single release.
Bring Me Home
Bring Me Home is a return to the emotive piano ballad style of the opening song. It's on this kind of song that Monica gets to excel as a singer, and here she gives an enchanting performance. Lyrically, it's about needing someone to show emotional support.
This Time
This Time is a little different, this one is a country pop song that opens with a fine fiddle part. It's a duet performed with Matthew Koziol and Matthew takes the lead on the opening verse. Monica joins in on the excellent chorus, their contrasting voices blending and complementing each other perfectly. She then takes the second verse giving a nice 'yin yang' vibe to the song, and lyrically it's a positive affirmation about giving a relationship another go.
The Mirror
The Mirror is both a melancholy country ballad and an empowering, uplifting anthem. It's about a woman who has reached the end of her tether while in an unhappy relationship and decides to leave, as captured succinctly in the superb singalong chorus: "She can't take it anymore, her suitcase sitting by the door….she won't back down". Another potential single.
Let Me Be There
Let Me Be There is more emotionally straightforward and musically a toe-tapping country rock song that has an authentic, roots vibe. This song is actually a cover version of an Olivia Newton John which was originally released on an album in 1973. It's traditional country at its finest, featuring a sweet lyric about wanting to be in someone's life. The subtle low male vocals on the chorus are a nice touch as is the rich Hammond organ which adds to the instrumental texture.
When Heaven Can't Wait
The album closes aptly with one final piano ballad where Monica once again gets to shine, vocally. Backed by plaintive piano and evocative strings, she is eventually joined by the gospel-tinged vocals of the McCrary Sisters whose contribution lends the song an uplifting, highly spiritual quality. Lyrically, it's particularly moving, about losing a loved one: "A forced goodbye when heaven can't wait….". It's a fitting end to an album that, as the title implies, takes the listener on an emotional journey.
Overall, this is a very fine collection of country pop songs that allow Monica Ortiz to showcase her skills as both singer and songwriter. Her different collaborators bring variety yet there's also a sense of cohesion and musical unity. With a flawlessly produced sound and several potential singles, Monica Ortiz has everything it takes to break through to the big time.
VERDICT = 8.8 out of 10
Alex Faulkner
---
This article was originally published by music journalist Alex Faulkner and featured on The Faulkner Review on August 5, 2019, click here to view it.