Written by Yitzi Weiner
MUSIC STAR MONICA ORTIZ
"Diversity in entertainment is so important because it shows that when everyone is included, we can understand each other's differences and work together to build a better future".
"This planet is populated with people of many colors, so diversity represents the real world. It shows when everyone is included, we can either put our differences aside or understand each other's differences and break down walls, find love, and work together to build a better future for all. It will lead us down a path of eradicating racism."
---
I had the pleasure to interview Monica Ortiz. Monica has always believed in the power of music and its ability to heal the heart, fuel the soul and bring you closure. Her philosophy is reflected in this heartwarming holiday EP, and latest full-length album Journey Home that marries delicate, captivating vocals to poised, ethereal jazz-tinged pop. Bright and lilting, the record encourages listeners to embrace life's uncertainty and find joy in every moment. Monica explains, "Journey Home is an emotional roller coaster ride of ups and downs because life is a roller coaster ride. I believe you need a strong seatbelt to keep you safe." As you dive deeper into Journey Home, it will come as no surprise that in addition to her career as an artist, Monica has created a life centered around compassion and care. With the encouragement of those she helped in the past, she translated her kind, empathetic wisdom into words and left behind her career as a film producer to publish her first book. As she allowed her aspirations to get bigger, Monica launched The Exceptional Life Institute in 2016 based on the principals of her book. She wanted a change in the self-help industry and began working on shifting the idea of self-help into real self-education and building a place for people to heal themselves.
Thank you so much for doing this with us Monica! Can you tell us the story of how you grew up?
I don't know how much you want to know and I like to stay positive but what I will say is that it was a tumultuous upbringing in my household. My one saving grace was my Grandfather. He was kind to me and had so much wisdom and I am grateful I had him in my life.
Can you share a story with us about what brought you to this specific career path?
I started singing really early in my life but was discouraged from any creative endeavor. I ended up studying business and working in the corporate world for a long time. Then I decided that I wanted to follow my dream and pursue a career in the entertainment industry and started writing and producing films, commercials, and music videos. That's how I met Jars of Clay — I produced one of their music videos. A few years ago, I was doing some inner work and took a good look at my life and asked myself, "If I died tomorrow, what would I be proud of, what would I regret, what would I need to do?" One of my answers was that I have gotten to sing, but I haven't gotten to put my heart and soul into music the way I wanted to when I was a little girl, so that's what I am doing now.
Can you tell us the most interesting story that happened to you since you began your career?
Making my album Journey Home. That album pulled from my life story, and it was so eye-opening to look at my life and what I have been through, the friendships I've made, and the love that I lost. It was an emotional roller coaster ride with lots of laughter, tears, and a feeling of empowerment from getting to write several of the songs on the album. I believe that the energy of leaving myself open to the emotion and the artist's journey allowed so many amazingly talented artists to join me and be a part of my musical journey and my album.
Can you share a story about the funniest mistake you made when you were first starting?
I think it was that so many things went wrong with the making of the music video for "My Holiday Bling." The first concept I had completely fell apart and I had to regroup. Then the day we were going to start shooting, the makeup girl did such a bad job with the makeup that I had to wash it off and then have her try again, and that didn't come out right either. Then the hair person couldn't do my hair because of a scheduling issue. I didn't want to give up on the whole day because of a makeup and hair issue so we just reworked what we were shooting that day.
Can you tell us what lesson you learned from that?
It reaffirmed to me that I am pretty good at rolling with the punches and keeping my positive outlook along the way. I truly believe that kindness matters, especially kindness to yourself and that helps keep you with a positive outlook.
What are some of the most interesting or exciting projects you are working on now?
I just released my holiday EP "My Holiday Bling" with the above mentioned music video and I am working on a holiday show.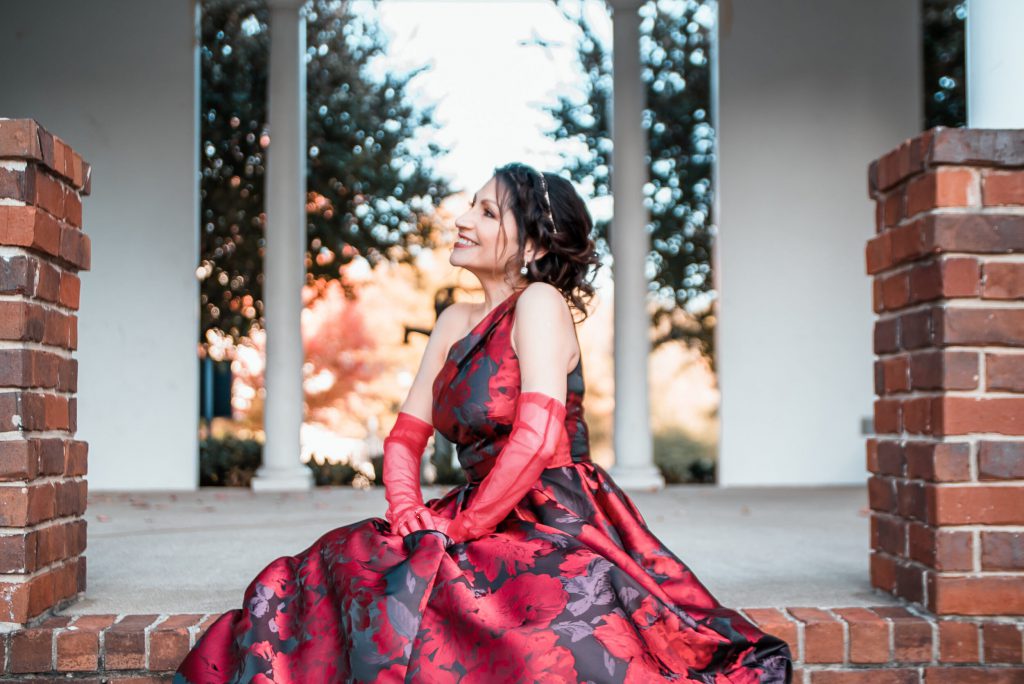 We are very interested in diversity in the entertainment industry. Can you share three reasons with our readers about why you think it's important to have diversity represented in film and television?
Absolutely. This is one of my favorite things to teach.
This planet is populated with people of many colors, so diversity represents the real world.
It shows when everyone is included, we can either put our differences aside or understand each other's differences and break down walls, find love, and work together to build a better future for all.
It will lead us down a path of eradicating racism.
How can that potentially affect our culture?
Hopefully wars and genocide based on race hatred will be a thing of the past.
What are your "5 things I wish someone told me when I first started" and why. Please share a story or example for each.
That a career can be stunted based on not giving out sexual favors. I was a bit shocked the first time I was propositioned and of course rejected it. Then the person tried to sabotage me with lies about my work.
There is sexual bias, age bias, and race bias in the industry. I was a producer on a music video and one of the crew members thought I was much younger than I actually was and just spread such hatred throughout the set saying, "That kid is too young and she doesn't know what she is doing." The shoot started off fine, but then closer to wrapping the video, the other crew members then started speaking to me with such disrespect and criticizing and questioning all of my decisions. It was tough but I stuck to what I believed, worked really hard, and got through it.
Have all of your legal documents in place. This is something I learned from working in the corporate world.
Keep the people who work for you well fed. On every set I have ever worked on, I have made sure there was plenty of food because I learned that a well-fed crew is a happy crew and when you are happy you work better.
Be true to yourself and pursue your dreams. Growing up, I was discouraged from having a career in the entertainment industry and worked in the corporate world for many years. Once I entered the entertainment business, I was so madly in love with it. I really wish I had stuck to my guns and started so many years before.
Which tips would you recommend to your colleagues in your industry to help them to thrive and not "burn out"?
Make sure you take care of yourself. Take time out for you. Work on projects you love and keep doing things that allow your creative side to grow.
You are a person of enormous influence. If you could inspire a movement that would bring the most amount of good to the most amount of people, what would that be? You never know what your idea can trigger. 🙂
It is what I am doing now with The Exceptional Life Institute and the Masters of Mindfulness app. There is a global mental health issue, and I am working to change the industry of self-help to real self-education. There has been something broken in the world of psychology and self-help that has been needing to be fixed, so I created several tools and programs to help the people who really want the help, who really want something better for themselves and for their life, to attain it.
None of us are able to achieve success without some help along the way. Is there a particular person who you are grateful towards who helped get you to where you are? Can you share a story about that?
I am grateful to Matt Odmark and Charlie Lowell (Jars of Clay) for their kindness and for being a part of my musical journey. I met them when I produced their music video "Work" which we won a GMA Dove Award for the following year. So when I decided to record my all-covers album Humming Bird, I turned to them to work with me on it and they both said "yes." We met and discussed what songs I wanted to cover and Matt and Charlie worked on the music. Then I went into the Gray Matters studio and recorded all of the vocals with Matt. They are such professionals and it was a great experience for me.
Can you please give us your favorite "Life Lesson Quote"? Can you share how that was relevant to you in your life?
That would be 'You've got to roll with the punches." I have had so many hardships in my life and I have really done my best to roll with it and keep moving forward. It hasn't been easy but I do my best to stay positive and tell myself "just keep moving forward" even when things look bleak and I can honestly say it has helped me.
Is there a person in the world, or in the US whom you would love to have a private breakfast or lunch with, and why? He or she might just see this, especially if we tag them. 🙂
Kelly Clarkson because we are both from Texas and like to talk and my kids think she and I have the same personality and we would make each other laugh and laugh.
How can our readers follow you on social media?
On Instagram: monicaortizmusic
Facebook: Monica Ortiz Music
and on Twitter: mortizsmusic
---
This review was originally written and posted by Authority Magazine on December 15, 2019.